SEi's LRC is the Most Flexible User Control Available!

Elegant operation, complete controllability, full programmability, and simple installation make SEi's LRC the most flexible user control available.
The LRC is ideal for home control, building automation, energy management, demand side management, media retrieval/distance learning, building access control, and hotel and meeting space automation.
The LRC integrates all of your controllable devices and systems enabling access and selection from one panel. Intuitive on-screen menus simplify system usage with a consistent interface design.
The LRC is fully programmable and the easy-to-read display is backlight and capable of full graphics. Intuitive menus enable convenient and easy access to lighting, temperature, security, audio and video controls, scheduling, energy management and demand side management functions. All information is displayed in plain language enabling locations, systems and functions to be identified by name. The unit has "soft" buttons to change function as desired, and is ideal for PIN and access codes, credit card transactions and general menus.
Delivering a system that is easy-to-install for both new construction and retrofit is essential! Our flush mount LRC installs in a standard 3 gang electrical box. The LRC is also available in surface mount and table-top versions. The LRC is aesthetically pleasing and available in many finishes. It is ideal for commercial, industrial and residential installations.

Applications
| | |
| --- | --- |
| | Home Control. |
| | Building Automation. |
| | Energy Management/Demand Side Management. |
| | Media Retrieval/Distance Learning. |
| | Hotels and Convention Center Automation. |
| | Custom Applications on an OEM Basis. |
Common Uses
| | |
| --- | --- |
| | A single control panel to integrate all controllable products and systems. |
| | Lighting/Dimming control. |
| | Audio/Video system control. |
| | Security/Alarm system monitoring and control. |
| | Water systems control. |
| | Building access control. |
| | CCTV cameras. |
Features
| | |
| --- | --- |
| | Easy to read backlit LCD display with adjustable brightness and contrast. |
| | 15 "soft" buttons that change function as desired. |
| | 10 key access to services, PIN's, Credit Cart entry, etc. |
| | Audible button feedback with software controllable volume and tone. |
| | Can perform LonWorks® network management duties via LNS, or NSS-10 (LRC-LNM). |
| | Built in service and system diagnostics. |
| | Available in a variety of finishes. |
Design and specifications subject to change without notice. LonWorks® is a trademark of Echelon Corporation, registered in the United States and other countries.

Sample LRC Screens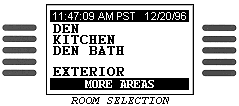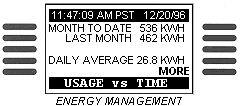 Pricing
Description
SKU #
Price
sku-1
email

| | |
| --- | --- |
| LRC-62N | LonWorks® 62-Network Variables. |

sku-2
email

| | |
| --- | --- |
| LRC-4KN | LonWorks® 4096-Network Variable. |

sku-3
email

| | |
| --- | --- |
| LRC-LNM | LonWorks® With Network Management (NSS). |

sku-4
email

| | |
| --- | --- |
| LRC-VT | RS-232 VT100 Terminal Emulation. |

sku-5
email

| | |
| --- | --- |
| Name | |
| Title | |
| Company | |
| Address | |
| E-mail | |
| Phone | |